Mindelo is a really colorful town
It's another beautiful morning in Cabo Verde. Yesterday we had a wonderful dinner in town with live music and the best dessert ever. Some of us went on the port program, a guided tour of the city with Jose, a young Cabo Verdean who seems to be able to speak every language and gave us a real insight into the culture of the island from a young, local perspective. We went to the museum for Cesaria Evora, a local singer who won a Grammy, and saw street art. We visited the old fort and saw how the whole bay was an ancient volcanic crater. We learnt lots about the history of the island and some of the tensions of the modern culture; pretty much all the food has to be shipped to the island, the younger generation rely heavily on tourism and there's what Jose described as a 'crisis of culture' because some islanders identify strongly as African while others see themselves as more European or just Cabo Verdean. It's a really colorful island with music playing everywhere. Akon uses a studio that floats in the marina! Today some of us have gone on the optional port program to the other island.
And it was Teagan's birthday! She got 4 buckets of water on her.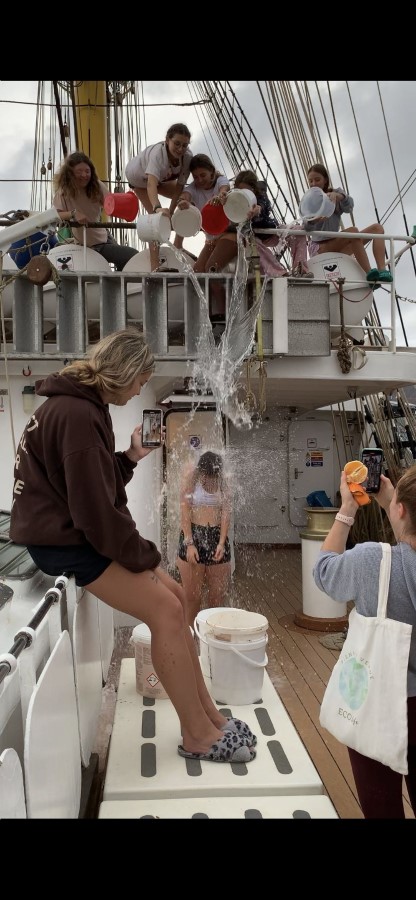 LOG KEEPER: CONNOR TESKEY
Date— Sunday December 19
Time —0800
Temperature— 24 degrees
Lat — 16 53 minutes N
Long —25 0.6 minutes W
Temperature— 22.5
Sea state— 1
Wind focus— 1
Sailing status— at anchor
Distance to destination— 0 not/miles
Distance this voyage — 4177 Not/mile